Spreading Joy One Bear At A Time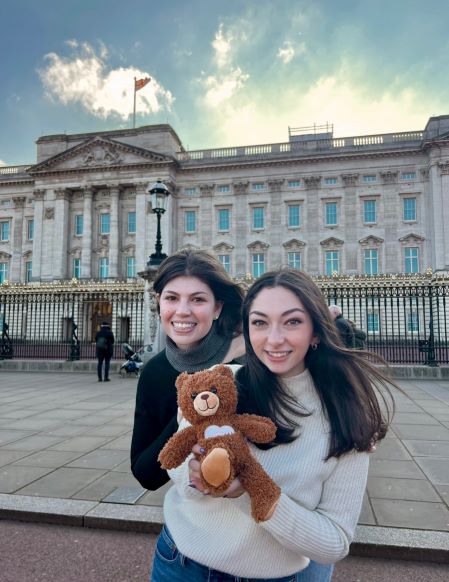 In February 2022, Mishe Bear LLC, a company that creates teddy bears which are as meaningful as they are snuggly, launched a campaign to raise awareness about Sharsheret on Pink Day. 
The name "Mishe Bear" comes from the Jewish prayer "Mi Sheberach," a prayer for anyone in need of some divine goodness, most commonly recited for those in search of healing. Each Mishe Bear carries a heart shaped note card in his belly pocket, close to his heart, with the prayer and a customized message. Mishe Bear was created by Audrey Singer and Aden Horowitz, juniors at the University of Pennsylvania, who, after finding themselves in need of meaningful gifts in the midst of the pandemic, pooled together their Bat Mitzvah savings and created Mishe Bear LLC. Mishe Bear's mission is to spread love and give back to the community and meaningful Jewish organizations – now including Sharsheret! 
This past Pink Day, Mishe Bear and Sharsheret collaborated in a special event so that Mishe Bears could be included in Sharsheret Busy Boxes. These packages are created to help families facing breast or ovarian cancer. Thanks to Mishe Bear, several families now have extra meaningful snuggles to help them through their cancer or prophylactic surgery journeys. 
Sharsheret's relationship with Mishe Bear is made even more meaningful by the seemingly destined connections between the two organizations. Sharsheret has played an important role in the breast cancer journey of one of Aden's close family members. Furthermore, Audrey chose to support Sharsheret for her Bat Mitzvah project in 2013 as a way to honor her grandmother who passed away from breast cancer. Audrey led fundraisers and educational workshops in New Orleans to raise awareness for breast and ovarian cancer, years before Mishe Bear came into existence.
Giving back to the community is core to Mishe Bear's mission. When Mishe Bear was first established, Audrey and Aden wanted to find organizations rooted in Judaism with an overarching goal of healing. When they connected with Sharsheret, the special links to their past and the alignment of goals made the relationship seem like perfect sense.
Sharsheret and Mishe Bear are excited to continue their relationship and spread joy, hope and prayers for healing throughout the Sharsheret community and beyond.