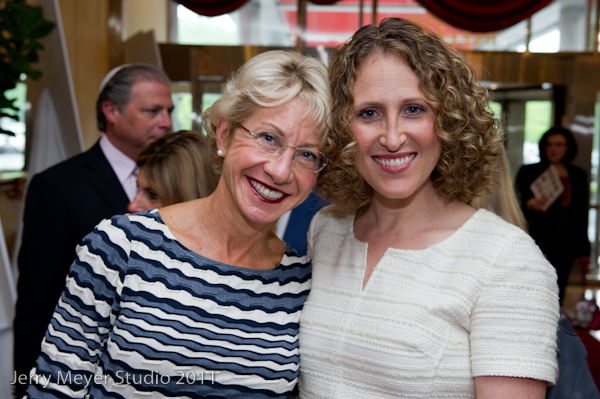 The poet Yehuda Amichai must not have been privileged to have an encounter with Rochelle Shoretz, the founder of Sharsheret, when he crafted the poem:
A man doesn't have time in his life
to have time for everything.
He doesn't have seasons enough to have
a season for every purpose.
Ecclesiastes was wrong about that.
Rochelle Shoretz, a woman who embraced her gifts and used them to navigate her challenges, was 28 years old and had just finished clerking for Justice Ruth Bader Ginsburg of the United States Supreme Court when she noticed an indentation in one of her breasts. It was Stage II cancer, and she beat it. While on chemotherapy, she opted to decline lucrative and prestigious legal jobs, and instead began Sharsheret, an organization that supports thousands of young women with breast cancer.
I think it best to help each of you understand exactly how incredibly special Rochelle was by sharing with you her own words from a journal she kept a few years later in the aftermath of receiving a diagnosis of advanced breast cancer. One of many poetic entries read:
This morning I went to say Birchat Hachama – a blessing on the sun that is recited every 28 years-with my friends…I had heard about the blessing in Synagogue last weekend, but I didn't quite recognize the significance of the event until my friend came to visit last night. She insisted that I go this morning and taught me that at the end of the recitation of the blessing, you are supposed to turn to your right and to your left, and tell each person standing next to you, "See you in 28 years."
I'll take 28 years.
So this morning, as the clouds parted to make room for the sun, I recited the blessing with friends and we promised to meet back in the park in 2037. Then we danced…It was cold, but the sun was shining and I was in the park with the people I love…."
Rochelle, otherwise known as Rochie, by those of us privileged to really know her, did not receive the gift of those 28 years. But she knew how to make every single moment count, so her "years" were longer than most of ours.
Her secret was that she "stayed in the sunshine," after all as she herself often cited, "It costs the same as staying in the clouds." A dear friend of hers who spoke at her funeral expressed that "Rochie's life was painted in huge brushstrokes. She always fired on all 6 cylinders."
Testimony to that energy is that precisely when first undergoing chemotherapy and radiation therapy at age 28, she founded Sharsheret (Hebrew for "chain"), a national organization supporting young Jewish women facing breast cancer.
When diagnosed for the second time with metastatic breast cancer, Rochie wrote:
"As someone living with a sharpened sense of the value of time, I appreciate, that although I have done a lot of amazing things in 40 short years …..nothing has given my life more meaning than sharing Sharsheret's unapologetically Jewish message worldwide."
Sharsheret began as an organization of forging links between women who share a language of experience. It offered peer support, and continues to do so, in a very real way, for so many women. Rochelle herself was the first link. The organization established educational programs; cosmetic support for young women undergoing chemotherapy with a "Best Face Forward" initiative; and Busy Boxes filled with age appropriate toys for the children of young women undergoing chemotherapy to help keep the children happy and occupied.
Rabbi Joseph Soloveitchik expounded in an essay entitled Kol Dodi Dofek that when one is suffering: "I ask one simple question: What must the sufferer do so that he (or she) may live through his (or her) suffering? We ask neither about the cause of suffering nor about its purpose, but, rather, about how it might be mended and elevated."
This is precisely the question Rochie incessantly asked herself. And answered.
Rochelle Shoretz chose to "stay in the sunshine." She shared that "they often say when you lose one of five senses, your others are enhanced….I wonder if life feels so much more powerful and vibrant to me precisely because I lost some of my health."
She approached her illness not as fate, but as destiny, building Sharsheret and thereby forging close, critical relationships not only between herself and others but also forging critical connections for a multitude of women who otherwise would have remained so isolated by their illness. What a powerful role model for each of us.