Support is Vital for Recovery and Healing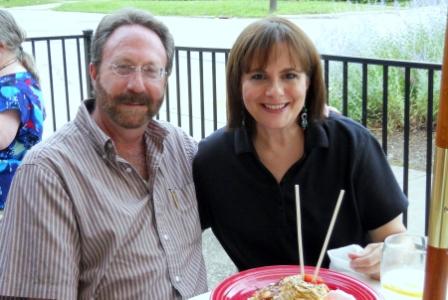 2007 was a challenging year. My aunt was facing brain cancer, my mom had passed away a few years earlier from lung cancer, and my grandmother passed a year before that. I felt exhausted and vaguely unwell. I attributed my symptoms to caring for relatives, raising a family, running a small production company, and just getting older. I had a physical, blood work, a pap smear, and a mammogram in December and the results were normal so I stopped complaining. I was 56 years old.
In March of 2008 I received an email with the subject line: "Send to all the women you know". Usually those get trashed immediately, but I opened this one because it was from my cousin. The title was: An Eye Opener on Ovarian Cancer. I read it and was stunned to find all of my symptoms listed. I called my doctor and requested the CA125 blood test and was told (just as the email predicted) that it was an unreliable test and I should make an appointment to talk about my concerns. Knowing that wedding season was approaching and I would soon be on my feet fourteen hours a day as a videographer, I felt an urgency to find out if something was wrong. I called The Cleveland Clinic and made an appointment with a gastroenterologist for that afternoon.
During the exam, the doctor said he "felt something" in my lower abdomen and scheduled a CT scan. This was on a Tuesday. On Thursday, the results were back and I was scheduled to see my gynecologist for an ultrasound to examine huge masses on my ovaries. By Friday, I knew it was probably cancer and surgery was necessary to confirm the suspicion.
Ten days later, I was diagnosed with stage III ovarian cancer and underwent a full hysterectomy. Little did I know that I would need several more surgeries and chemotherapy. I am blessed to have good friends and a wonderful family that enveloped me with love and support. Having always been a caregiver, I was not accustomed to being cared for. I was overwhelmed by the kindness people showed me. My cousins shopped for and purchased a wig with me and parents of children who attended day school with my children ten years before cooked meals on chemo days, sent weekly cards, and delivered pots of soup. One friend came with me to every chemo treatment and took notes so she could advocate medically and report to my out-of-town children. My sons became my "medical team", researching, reviewing, and advising. Prayers were said for me all around the world. I was in awe of the collective goodness that nurtured me through those tough times.
Between the rounds of chemotherapy, I was tested and found to have the BRCA2 mutation that is common among Ashkenazi Jews. At the doctor's office, I picked up a booklet that explained the genetic mutation and its connection to breast cancer and ovarian cancer. The booklet was published by Sharsheret. I educated myself on BRCA2 through links on Sharsheret's website and made life-altering decisions based on what I learned.
When I became well enough, I contacted Sharsheret's Link Program Coordinator and asked to join Sharsheret as a peer supporter for other women diagnosed with cancer. If I can help by sharing my experience, my time, or whatever is needed, I want to do that. Sharsheret is part of the collective goodness I experienced and I can give back through this organization. Recently I delivered Sharsheret brochures to two hospitals in hopes that others will become aware that support exists and is just a phone call away.
By: Fran Goldlust of Beachwood, Ohio, Sharsheret Peer Supporter