The Importance of Breast Rehabilitation and Lymphedema Therapy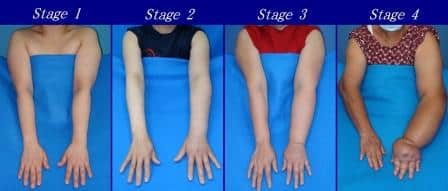 Throughout every stage of post-reconstructive surgery, rehabilitation is a valuable tool to maximize outcomes.  Mastectomy and other types of breast surgeries, can result in impaired function of the upper extremities. Breast Rehabilitation can be integral during the healing process.  Scarring from surgery causes the chest wall to become tight which often results in decreased range of motion, sensitivity, pain and overall discomfort.  When looking for a rehabilitative setting, consider a therapist with specific experience in post-surgical, breast cancer treatment.  Patients can receive treatment (ordered by a physician) while undergoing chemotherapy and/or radiation in order to keep tissue and skin flexible and joints functional.
In some cases, lymph nodes may need to be removed.  The more lymph nodes removed, the higher the risk of developing secondary lymphedema.  Secondary lymphedema is damage to the lymph nodes/vessels from surgery, radiation, infection and/or cancer. Once there is damage, lymph nodes cannot drain the lymphatic fluid,  causing a build-up of fluid.  A Certified Lymphedema Therapist (CLT) can guide patients through potential risks and available treatments.  Treatments can include, but are not limited to, Manual Lymphatic Drainage (MLD), low tension compression bandaging, exercising and compression garments.  All of these treatments aid in moving the lymphatic fluid out of the affected area.  With the right treatment plan, lymphedema can be reduced and even controlled.  
With these healthcare options, quality of life can be restored and living can become less painful and uncomfortable.  Always speak with your medical doctor about treatments first.
For more information, please visit www.breastrehabilitation.com.