Third Annual Pies for Prevention Thanksgiving Bake Sale!
Do you love Thanksgiving but hate all the preparations?!?
Order our delicious pies to save time and support a worthy cause!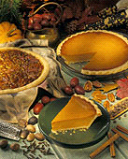 All Bake Sale proceeds will benefit



and the
Stephanie Sussman and Ann Nadrich Memorial Fund
established to support programming for
Jewish women and families facing ovarian cancer.
Baked Goods
Pumpkin Pie, Pecan Pie, Chocolate Pecan Pie, Chocolate Chip Cookie Dough Pie, and Pumpkin-Cranberry Bread
Price
$20 per item
Order Deadline
Monday, November 14, 2011
Order Information
Orders can be placed online at:
Teaneck, NJ Orders
West Orange, NJ Orders
New York City Orders
Long Island, NY Orders
Atlanta, GA Orders
Palo Alto, CA Orders
Sharon, MA Orders
All ingredients are certified kosher and pareve. All baked goods are homemade and baked in a kosher kitchen.
For more information, please contact:
Sharon Wieder – [email protected] or 201.837.7837
Adeena Sussman – [email protected] or 917.374.8456