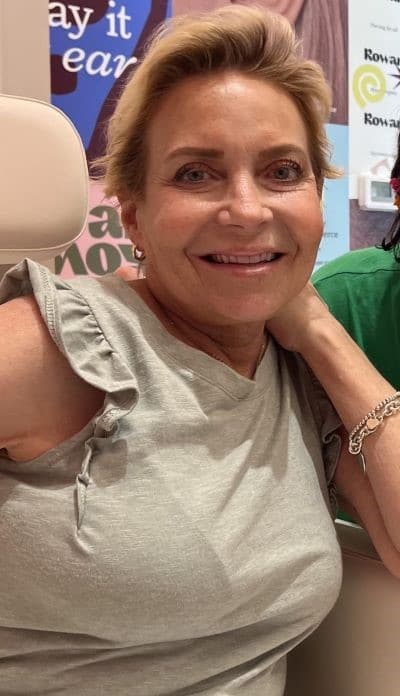 I was originally diagnosed as Stage I Hormone+ HER2- in Sept of 2019, and was then diagnosed with Metastatic Breast Cancer (mBC) in July 2020. The cancer had spread rapidly to my liver and bones including my spine and pelvis. My oncologist tried prescribing 5 different series of mBC drugs between 2020 and 2022, but these were only successful for a few months each. She chose to send my tumor sample out to a specialty lab to check for any gene mutations that may have developed, and she found that the tumor was HER2 low. HER2 low is a new classification for breast tumors that express a small amount of HER2, less than what is typically required with other HER2 targeted treatments. The test results showed that I was a candidate for a new FDA approved mBC drug to treat HER2+ and HER2 low drug. This mBC drug, Enhertu, received a standing ovation at a breast cancer conference in 2022. The oncologists were astounded at the results, and patients were unexpectedly blessed.
I began taking Enhertu in June of 2022. It has given me a year of significant improvement thus far. By targeting a specific finding in my tumor, this medication was able to work more effectively. I had been in much more pain from bone mets prior to Enhertu. Unfortunately Enhertu does affect the hair, so I shaved my head down to a crew cut before I began losing it in clumps. My hair began to grow back just a couple months into the treatment. During the interim I had learned about Sharsheret and just how supportive they are for breast cancer patients and the side effects we have to endure. Sharsheret has a free wig resource, and they will make a real hair wig for anyone with breast cancer who meets the financial requirements. It is custom made to fit your head and natural hair color. I have thoroughly enjoyed my amazing wig. Organizations like Sharsheret can make a bad day bright. I am happy to be able to give back by sharing my experience with Enhertu.


This blog series was made possible with generous support from AstraZeneca. You can find more education within this series here.
Sharsheret is a national not for profit cancer support and education organization and does not provide any medical advice or perform any medical procedures. Sharsheret does not endorse or promote any specific medication, treatment, product, or service, and makes no guarantees regarding the effectiveness of the product discussed herein. The information provided herein is not a substitute for professional medical advice or treatment. You should always seek the advice of your physician or other qualified health provider.