Want To Fight The C-Word? Pick Up Another: Cruciferous.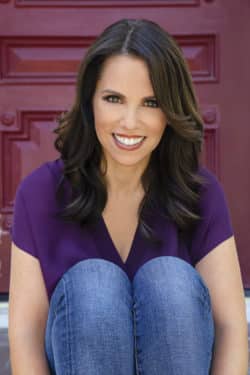 By Rachel Beller, MS, RDN, Founder and CEO of Beller Nutritional Institute and Creator of PowerPerks
I know, "cruciferous vegetables" sounds like something scary from a Harry Potter movie — definitely not appetizing! Well let me tell you why you'll soon love all things cruciferous.
First, the name is the scientific term for plants whose petals resemble a flower (not so scary after all!). Think cauliflower, particularly the purple kind. In addition, nature has given these plants fantastic cancer-fighting properties.
For example, when it comes to breast health, cruciferous vegetables contain an element called indole-3- carbinol content. Also not a pretty name, but what it might do for you is pure beauty:
possibly enhance enzyme activity in breaking down carcinogens
inhibit estrogen-responsive genes that may lead to cancer development
help clear excess estrogen (one likely cause of breast cancer) from your system.
That's why I always tell my PowerPerks members to make cruciferous veggies a crucial part of their daily routine. Aim for at least one serving a day — that's only half a cup cooked! (Even a little can go a long way.)
For both flavor and enhanced effectiveness, diversify your cruciferous veggies. Simply choose your fighters from the following list:
Arugula
Bok choy
Broccoli
Broccoli sprouts
Brussels sprouts
Cabbage
Cauliflower
Collard or mustard greens
Kale
Radishes
Turnips
Watercress
To get you started in a super delish way, try my Stir Fried Baby Bok Choy the PowerPerks Program. Just one taste and you might just make it a great habit!
Stir Fried Baby Bok Choy (Vegan, Gluten-free)
Makes: 4 servings
Serving size: 2 cups
Ingredients:
1 ½ -inch piece ginger root, minced
2 teaspoons low-sodium tamari
1 teaspoon balsamic vinegar
2 teaspoons sesame oil
1 tablespoon walnut or olive oil
4 cloves of garlic, thinly sliced
2 pounds baby bok choy (8-10)
Power Up! (Add to your meal):
1-2 tablespoons kimchi, chopped
Directions:
Whisk the ginger, tamari, balsamic vinegar, and sesame oil together in a small bowl.
Heat oil in a large skillet over medium-high heat. Add the garlic and sauté for 30 seconds, then add the bok choy and stir-fry until tender but still crispy, about 1 to 2 minutes. (Better to undercook than overcook!)
Remove from heat, toss with the sauce mixture, and serve.
Meal Math: 90 calories | 6g fat | 220mg sodium | 7g carbs | 2g fiber | 3g sugar | 4g protein
For more incredible weight management and cancer fighting perks, join the PowerPerks movement!