Wearing Sharsheret's Badge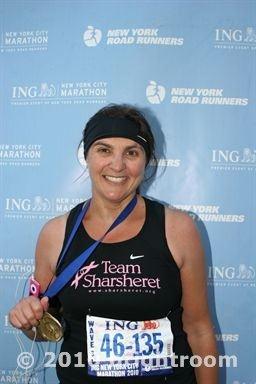 Why do I run for team Sharsheret? Six years ago, two of my dear friends were diagnosed with breast cancer- that was my first introduction to the world of breast cancer and its impact on the lives of others. That experience paved the way for my connection to Sharsheret. I decided to engage my kids' school (Solomon Schechter Day School) and raise money for Sharsheret by running the NYC marathon. Wow! What an experience- the love and support from Schechter and the support from Sharsheret- it all collided into one magnificent run! It was so much fun. When an opportunity came around again to run for Sharsheret- it was just an obvious- YES, I'll do this!
I am truly so grateful to have Sharsheret – an organization that reaches out to my community, that gives support, education, information and brings people together!
Thank you Sharsheret! I'm so honored to be wearing your badge!