What Baking For Sharsheret's Pies for Prevention Sale Means To Us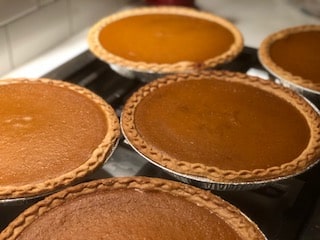 Our family has been directly touched by four generations of cancer and are true believers that a cure for one cancer will unlock keys to curing all cancer.
We were so honored to be asked to participate in Sharsheret's annual "Pies for Prevention" bake sale to raise awareness and funding for ovarian cancer research. Typically, every October and Valentine's Day, Eden and I host bake sales to raise money to support cancer patients and their families – we love spending time together planning our offerings, marketing our sweets with Eden's creative marketing flyers, baking up a storm, and ultimately delivering sweetness and love in the form of freshly-baked goods.
Eden and I are so grateful to be a part of this annual Sharsheret event and thrilled that Eden can share her sweet and impactful mitzvah project with you.