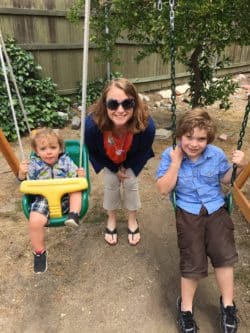 When my aunt passed away at 47 from metastatic breast cancer, my family considered it an odd coincidence that my grandmother had lost a sister at 47 to breast cancer, too. Then my grandmother passed from metastatic breast cancer 6 months later.
By the time I was pregnant with my first son in 2009, my OB mentioned genetic testing but at the time, only survivors in the family were tested. Survivors wasn't something my family had.
Then in 2015 my father and brother were diagnosed with prostate cancer only weeks apart. My father's prognosis was terminal, but my brother, at only 40 years old, was luckier. The connection of prostate cancer to breast cancer was a recent discovery.
My father tested positive for BRCA2. I was pregnant so at my next OB visit, I asked for the test. Because I had a first-degree relative who was BRCA, insurance covered it.
I was positive, too.
I met with a genetic counselor, an oncologist and a therapist, but it was peer support that I found most valuable. Women who understood the available choices, the decisions to be made, the recovery, the feelings of loss and relief. I found these women through coincidence, but Sharsheret makes sure that this support is available to all women who need it.
When the oncologist at City of Hope told me that my risk of breast and ovarian cancer would decrease by 96% if I underwent a double mastectomy and hysterectomy, the choice seemed obvious. Our family was complete which made the decision far easier.
Though the nine-hour surgery was daunting, I woke up on a Friday morning with a 80% chance of breast cancer and a 40% chance of ovarian cancer, and by day's end, I felt like I'd effectively beaten this beast.
There's a word for us. We are pre-viviors, a club I am proud to be a part of, scars and all.
Even though I know a need to stay diligent with appropriate screenings, I have been given decades more time with my husband and my two beautiful sons. I hope that I can pay it forward through Sharsheret so that other women can have the gift of precious time.