Spungen Family Focus® Resources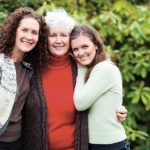 We understand that breast cancer and ovarian cancer are diseases that affect the entire Jewish family. From the time you hear that your wife, partner, daughter, sister, or mother has been diagnosed, you may be overwhelmed with a rush of feelings and the flood of information available to you through your family member's medical team, the internet, spiritual resources, and the community at large. Let us help you support your loved one.
HELPFUL HINTS FOR CAREGIVERS
The resources below are available in print as part of our free caregivers information kit. Request your free kit and connect with our staff on our adult family members' telephone line for guidance from diagnosis, through treatment, and beyond. Our Clinical Team will contact you to tailor your resources and request your mailing address prior to shipping.
Request a Free Florence and Laurence Spungen Family Foundation Family Focus Kit
My regular doctor's checkup at my pediatrician had never been easy for the three of us. My mom…